What about JC's ..?
The Origins...
This Historical Pub of Roma Caput Mundi
was born in 1996 from an idea, try to represent the Imperial Style of the Ancient Rome as a place where to drink something
like in the Zero Anno Domini.
The meaning of 'GURGUSTIUM' in fact, suggests a pub-like place in where Plebeian used to drink only alcoholics.
No warm stuff, nothing to eat. …altough we have some sweet food…
Only a purlieu where to get drunk, relax yourself and maybe meet other people who only wants going badly drunk with
…as you Guys >:~)
Too Hard to Imagine..?!
Join Us and Experience this Magical Club !!
The Club...
The JC's Gurgustium is located in the downtown of Rome, just a few steps from Via Nazionale, Via XX Settembre, Piazza della Repubblica or the 'Termini' Railway Station, right  next to the Aurelian Walls.
It's the Last Handcrafted Theme Club Of Rome.
If You like Details, here you'll find Hundreds.
…only if you get right Eyes to Appreciate a Long Lasting Hard Work that had to be done only for your Satisfaction into be here…
 Two Floors equipped with
TWO PROJECTOR MAXISCREENS
The Bigger One is 180 inches…
So You'll be fine enough to Watch your Favourite
And, Starting in early night…
Smoke and Lights On down to… "The Cave"!!
Our Underground Dancefloor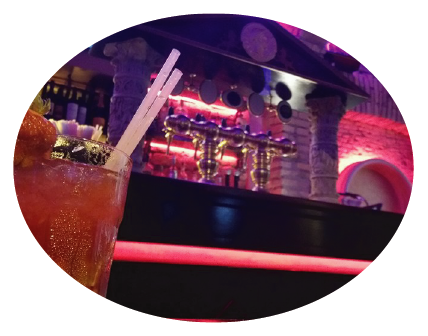 Having Fun @ JC's
The Way to Have Fun at JC's..?
Just Drink and Everything Will Go On by Itself !!
Will You Survive in the Late Night ? Drinking Games, Body Shots and Dancing all Night Long while Drinking Top Quality Stuff are Parts of Our Tradition @ JC's!!
Furthermore, We often plan some nice Parties…
So, Hurry Up! See You Later at the Gurgustium Guys!!!